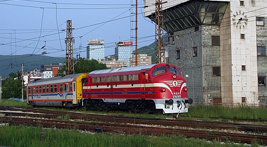 Measuring systems
The measuring systems process the measurement data in an on-line way, but it is also possible to analyse the measurement data back in the office. Simultaneously with the measurement the measurement diagrams are produced as well as numerous reports.
The measuring section contains the electronics and computing equipment of the measuring system, as well as the laser and line printers that print out the services. The two units on the right hand side contain the dynamic measuring system and in the left unit there is the geometric system.
The track measuring system provides contact and distortion-free data. The measuring system is capable of measuring in the 0-70 m wavelength range.
Measured track geometric characteristic:
Surface (right, left rail)
Loaded wheel surface (right, left rail)
Alignment (right, left rail)
Twist (A, B, C bases)
Gauge
Superelevation
Curvature
Dynamic cross level
Services:
Track geometric graph
List of local geometric faults
General track condition grading
Statistic evaluation
Office evaluation system:
The office system of the measuring system permits the playbacking of the measurement data, their re-evaluation using different evaluation parameters. The measuring system can also receive the data of the dynamic measuring system and the data of a technical database.
The development and construction of the vehicle dynamics measuring system was carried out by the specialists of the MÁV Development and Experimental Institute.
The measurement of the transversal and vertical wheel/rail forces takes place with direct/indirect process. The axle-box forces are measured in a direct way in both directions using force-measuring cells. However, the determination of the inertial forces of the wheel set takes place indirectly by measuring the transverse and vertical accelerations of the wheel set and by taking the inertia data into consideration.
Dynamic characteristics:
Transverse force on the track [Sum Y]
Derailment safety measuring No. [Bs]
Supplementary derailment safety measuring No. [Bks]
Track safety measurement No. [Bp]
Vertical relative rail load measuring No. (right rail) [PTj]
Vertical relative rail load measuring No. (left rail) [PTb]
Vertical relative rail load measurement No. [PTva]
Transversal travel comfort measuring No. [Kk]
Vertical travel comfort measuring No. [Kf]
Actual uncorrected free lateral acceleration [Kqk]
Services:
Vehicle dynamics graph
Evaluation protocol
Statistic evaluation
Technical data:
| | |
| --- | --- |
| Length: | 26100 mm |
| Axle load: | 14 t |
| Max measuring and travelling speed: | 200 km/h |
| Signal reception: | non-contact |
| Signal recording: | digital |